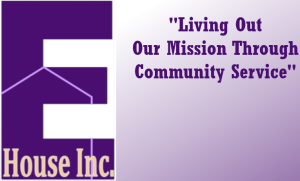 The Mission of E House, Inc. is to empower, educate and inform the community through offering a variety of programs and services.
The Vision of E House, Inc. is to improve the quality of life and the social and economic conditions of the communities we serve and of those abroad.
E House, Inc. is a 501c3 non-profit entity serving residents of Newport News and surrounding localities.
Staff Members
Renée H. Lewis, Program Director
Email: ehi.rhlewis@ebc.hrcoxmail.com
Emergency Food Pantry
Mondays & Fridays: 10 am – 1 pm
Bread Ministry
Wednesdays: 1 pm – 2:30 pm
(757) 926-5974 / F

ax (757) 595-6390